https://weather.gc.ca/city/pages/mb-38_metric_e.html

It's pretty chilly here sitting at -37*c with wind. Chill. They just ended an extreme cold weather warning. There is still one for tomorrow though. -44*c with the chill.

I work outside lol.....
Damn I think I've never experienced bellow -32 or something around that.

It was cold earlier and lots of snow after New Year but now it's warm again with +1 °C in Stockholm (lots of snow still remains though). Up in the north somewhere they had around -46 °C I heard.

Oh and I just talked with a acquaintance from Siberia, she said Sweden is very warm and nice (they had -67 °C up there now).
A lot of snow and -13*c but it feels like -17*c we have a lot of trouble with the roads ;D
That's some cold ass weather MaxXimus.

I live in Florida so the weather has been great,was cold last week but only dropped around 36 but now it's fine.

-44 again tomorrow and then apparently next Wednesday it's going to be -2 so that should be nice lol. Only in Winnipeg.:p
26°H ~ 16°L. It's very nice weather these days. ;D
Current weather! Just got back from jogging! WAAAA!
It's been raining lots here recently, and thank God! Complaining about rain during a drought is like complaining about work during a recession.
The weather has been all over the place the lastt week or two.

We had a blizzard. We had rain. We had temperatures around +10*c and -30*c. Heavy winds. Lots of melting snow with puddles everywhere and now everything is frozen and it's slippery as hell in places.
Dark, chilly and a bit windy here. Winter's coming... :o
Around 13 degrees celcius here in Kansai Japan. Typical Japanese weather around this time. I remember living in northern Europe. One year the weather was -28, that was the most extreme I have experienced.
Where in northern Europe? In my home town in the middle of Sweden -30 isn't common but happens sometimes. Normally it's between 0 and -20 in the winter though.

Here in Hokkaido it's only -4 now but lots and lots of snow.
No snow here yet... even though it was forecast for it to come, along with other horrible spells as part of Storm Caroline sweeping across. So far, no misery or even damages done yet.

And right now, it's cold and pitch-black, and it's only just past 5PM here :-\
P in Sweden :) We have been talking about this some year ago or something...You were from Uppsala right?

Anyway now it RAINS here....So boring.
Currently, it's dark and, pretty quiet outside. Yeah, dark at 5:30pm... :o
In Sweden sun goes down around 3:00 pm now. It's dark almost all day!
Quote from: Retrospectives on December 24, 2017, 02:40:21 am
P in Sweden :) We have been talking about this some year ago or something...You were from Uppsala right?

Oh Sweden was it. Yeah I remember you said you where in Sweden. Yeah I was born in Uppsala but the town I was bought up in is in the mountains.
Although it's warm now in Hokkaido we have a small snowstorm here.
rain, snow and ice on the ground :(
It's a winter wonderland here at the moment, and is most likely to stay until about Thursday. Damn cold outside too but, I aint bothered :crazy:
cold but sun is shining 8)
I was just informed of torrential rainfall, flooding, and mudslides in Japan. :o Hope everyone in Japan is okay.

Meanwhile it is still really freaking hot over here in Southern California. :fire: 102 farenheit (38 celsius).
Quote from: Jedi QuestMaster on July 09, 2018, 06:34:09 pm
I was just informed of torrential rainfall, flooding, and mudslides in Japan. :o Hope everyone in Japan is okay.

Meanwhile it is still really freaking hot over here in Southern California. :fire: 102 farenheit (38 celsius).

Thanks. Yes, it was flooding here which was serious but fortunately here in my particular area in Kansai where I live is no problems. Few week ago we had serious earthquake whereas I was called in and had to work shift on like 34 hours providing affected areas with necessities and other thing. After earthquake, people seek shelter in public school and some area became affected due to gas shortage so water and other thing was needed, and is our main job securing area that is affected so basically was a tough week.
Later, NGO/NPO and local city worker take over much of the work, but initially we in the JSDF including police and other authoritie are the one who first has to deal with those thing. Fortunately this time was OK, but always affected emotionally when seeing people have panic and children are crying, but those time is just matter of adrenaline but after get back home I crashed mentally for a week.
Anyway, weather here is HOT. Too hot. Cannot go outside. Totally impossible. Was around 34 celsius this morning. :'( Sound like you have similar weather but worse in Cali. You have humid? We have so humid summer in Japan. I cannot believe it.
Yeah lots of people apparently died due to the floodings. Here in Sapporo nothing happened though. We just have a pretty cold and rainy summer. Today was hot, humid and rainy though.
In Kyoto there was a lot of rain but the river closest to me didn't flood and overall we didn't suffer a lot of deaths or damage, especially compared to Hiroshima, Shikoku, Kyushu... they got it bad. And a few weeks ago we had a 6.0 earthquake.. enough now, mother earth.

It's 33-36 degrees every day and... yeah it's not fun for a swedish person like me. I have to wear short-sleeves shirts for one and even though I hate wearing them because I look like I'm in 3rd grade I am kinda wishing I had some shorts right about now.
Actually was only Osaka that got 6.1, Kyoto was on the 5-scale if I remember correctly. Day before we were put into "get ready" mode by our commander, because there was a minor quake day before which was felt though Osaka, so we had stand by and was ready. I remember our group came in from southwest and were directly thrown into hot bed because our division was one of the closest one to affected area which was in Kita Ku and Takatsuki Shi but overall the initial confusion we concluded the main damage been to the pipe of gas/water so we were commanded to deliver water to affected areas.

Many people of my generation and older from Kansai remember the Hanshin earthquake, and my Aunt lost her house, and so many dead people. I talked a lot of young people and they said this earthquake was the most seirous they felt in their life.

For me, luckily, I had not yet been commanded down to the west part of Japan (yet), since is not our jurisdiction but the west and 14th brigade has the control over those part, but anytime I can be called up and has to get down. Really I agree weather should stop being so bad this year.

Regards of heat, you can buy shirts cool, is good spray to spray on cloth and very commonly used. It works and give cooling feeling although maybe not perfect is better than nothing. :D Ask シャツクール in any pharmacy or even konbini and they shoud have it. Then if not like wearing shorts, try get 3/4 lenght...At least then the legs don't getting trapped inside normal pants. Uniqlo is brand is cheap.

Hope everyone else here on FW who live/visit/or just stay in Japan (or other place) is safe. Each summer is same though regarding heat. Is a battle cannot win. :-[
It's typhoon season in Taiwan! The northern part of the country got slammed with Typhoon Maria, supposedly; in normal Taiwan fashion, people in Taipei were complaining about overcrowding, wishing they would have had the whole afternoon off (classes and work were cancelled from 16:30 onwards in that region, in my region nothing was cancelled though I made an executive decision to cancel my evening job). I saw a quote where folks felt that had Taipei been relieved earlier, crowding would have been avoided as folks would have stopped for sandwiches and stuff before taking the subway to go home. I guess my thoughs were though, if the weather really were so bad, I wouldn't be stopping for sandwiches either way ;) So it just sounded like people wanted an excuse to be off work for an afternoon, and were upset when it didn't come, haha.






Glad you guys are all safe. People have died and it's really awful. I also saw that Manuel is safe and well also, as of course he's in Japan.

Weather is getting worse globally for sure, even England has been unbearably hot (27C+) for 3 week straight now, and that never happens.
Quote from: L___E___T on July 10, 2018, 02:53:49 pm
Weather is getting worse globally for sure, even England has been unbearably hot (27C+) for 3 week straight now, and that never happens.

Please transfer that temperature to Poland please




It's already moved on! We have cooler cloudy skies here at last...
GIMME COOOOOOL WINDS!!!!!!!!!!!!!! :'(
It's 45*C with the humidex right now. Quite unpleasant to say the very least.




A lot cooler here but been raining too. I think I'd rather have the heat back.
Quote from: MaxXimus on August 12, 2018, 01:33:10 pm
It's 45*C with the humidex right now. Quite unpleasant to say the very least.

That's insane. In Japan is like 35 degrees, humid yes, and will rain very much soon. 45 though, you have AC? I almost cannot tolerate temperature above 25, but worst I experience was in HK I think,... totally unbearable for longer times.
40 °C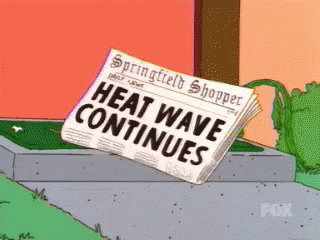 It's been rainy here all week. As I was telling a Polish friend of mine, it would usually start raining around noon, then stop for awhile, and likewise start raining again around 16:00 or so. Basically, it would rain just in time for me to get off work, either for my lunch break or to go home for the evening. I've been quite craving going on a bike ride, though for the past month or so, it's been impossible, with the rain and unpredictable weather. I even have my next route planned out, but sadly I can't put it into action, yet.

This past Thursday night everyone in my city was informed that due to the torrential rainfall, all classes / work was closed for Friday. It was a nice, unexpected surprise, and I've been able to enjoy my three-day holiday, and have been working to get a lot of things done.
P You alright? Got a call from 札幌 because I have friend and a relative living there. This one was massive I heard. I have myself worked like crazy shift again after the typhoon. I am in the 自衛隊 so I have been on stand by since two weeks because first we had a typhoon coming in, and now last time it hit Osaka pretty well so our base were called out to evacuate and secure. Did same thing in the earthquake in Kansai earlier this summer, and man is really taking on the nerves...Worst part is not the work but trying to stress down afterwards. Is either sleep 12 hours or 3 hours at best.

Hope you are safe, or anyone else in Hokkaido who hang out here as well. This summer is crazy.

For everyone else: There was BIG earthquake in Hokkaido. User P is living in Hokkaido/Sapporo and the electric was totally cut down and I have no way confirm he is even alive. Anyone know him more in person can confirm he is safe?
I am perfectly safe, thanks for worrying.
The earthquake hit Hokkaido hard (shindo 7, supposedly the most powerful in Hokkaido's recorded earthquake history), and there was a power outage in all of Hokkaido. It was weakened before reaching Sapporo though so it was "only" about shindo 4 here I think. The house shaked like crazy (around 3 at night) and I thought it was gonna fall apart first. There was no visible damages on the house at all though and the only problem was the power outage and the fact that everyone panicked so that about all convenience stores and super markets sold out of anything instantly edible in hours (some people bought instant ramen with no way to cook it without water and gas).

The electricity is slowly coming back to parts of Sapporo, and I'm fine where I live, but stores are still very low on stock or closed up completely. I'm buying what I can just in case there is a great aftershock or any another disasters coming (they seems to be coming in groups when you consider Kumamoto). I'm also keeping water bottles and beer just in case.

The typhoon didn't seem to hit us as hard as in central Japan (apparently it was still unusually strong for Hokkaido though) and it did not really affect me or my work directly. There are leaves and fallen trees everywhere though.

Anyway お疲れ様です!
Shindou? Rumble? Tremble?
Shindo, it's a scale for earthquakes of how much it shakes on the surface.
The scale has ten levels where 7 is the strongest:
0
1
2
3
4
5 weak
5 strong
6 weak
6 strong
7
P! I am glad to hear you could be safe and that you seem to be unharmed. Yes. Hokkaido is a fairly safe place most of the time as compare to example Honshu, but sure happen from time to time there will be earthquakes and such. Just stay safe and a good advice is always having saved up a ration of dried food and plenty of water. As probaby you know maybe, many families and person also have an extra backpack with underwear, t-shirts, sweater, pants and such things just if they need to grab something in total emergency. Is really terrible but I am happy hearing you are alive and fairly well. (I suppose it became traumatic with all understandings of that).

Be safe and thank you for reporting! :D
Nice and sunny here in Glasgow, even though we had crap weather from a few days back.
https://weather.gc.ca/city/pages/mb-38_metric_e.html

The weather is going to reach below -50*c for the next couple days. Jeez.

---
Post Merge: January 29, 2019, 05:08:08 am
---

-48 with the wind chill right now.

It's currently 20c here which means after months of 40c it's finally winter

Isn't the weather a bit on the damp side where you are though? It's a different kind of cold!
It's not that bad but i wish it was hotter it's April damn it ;D